A long but fun day yesterday in Kettering for the NCAS 1st Caswell shoot. Great weather all day, really warm at times.
Target 1 on the right side of the field with Jamie Mason (com), Ian Hannaford (rec) and James Farmer (com). The shoot was really well attended, full I think with over 70 archers including plenty of visitors. Being the first main shoot of the year, it?s also an unofficial selection shoot for the up-coming Ivy Keating county match with Bedfordshire in a few weeks time.
Having shot quite well during the week, shooting a 610 and a 603 70m, figured a high 1100 score was doable. Especially on a nice still day.
Sighters/practice was pretty good, nothing out of the red. The first scoring end went really well too with a nice end of 50 including two 10?s. Followed that with a 43, and a decent 93 first dozen start. Not such a great third end, starting with a low 2 ending up with 35. Recovered a bit with 46 next for 81. Third dozen was a bit all over the place, arrows straying left into the blue for 37/39 - 76. Would have been quite happy with 250 at the start I guess.
70 started badly, again going very left for just 38. A better 47 second end for an 85 doz. A much better 51/52-103 second doz. Then a 52/44-96 third for 284.
50 went a bit better with 46/48-94, 48/52-100, 47/50-97 291. Again most of the bad arrows going left.
Needed another strong 30m to get above 1150, but started to feel the long day. Only a 50 start and very few 10?s. 50/54-104, 54/55-109, 51/51-102 for a drained 315 and 1140.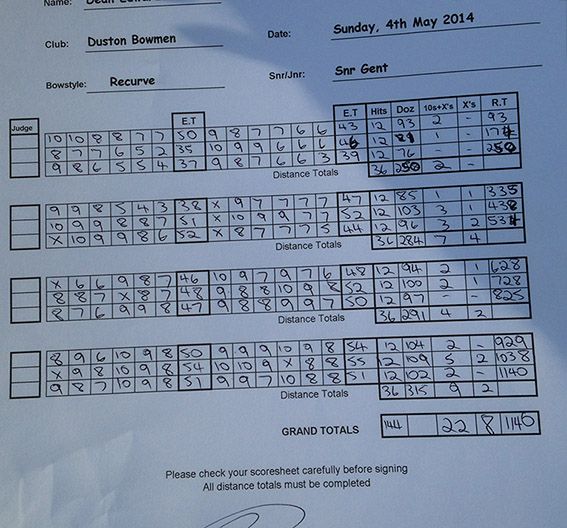 Overall I don?t think I shot well. Most the shots especially in the afternoon were forced. Realising there?s a bit of work to do yet before I can shoot more comfortably at an all day shoot. It was a long day and it felt like it, finishing shooting after 6pm.
A mixed day for my target companions. Jamie had a blistering 90m shooting a new distance county record with 343. He was slightly disappointed to only score one more point at 70 with 344, and again a point improvement at 50m of 345, before maxing 30 to score 1392! If it wasn?t for so many 57 ends, he could have quite easily joined the exclusive 1400 club. Surely he?ll do it this year.
Ian had a similar start to me with an ok 90. But struggled a bit having a few misses. Ended up in the high 1000?s. James didn?t have the start to the day he wanted, but shot quite well in the afternoon scoring 1325 I think.
Some other nice scores on the day. Shahram shot a new PB and hit MB on the nose with 1190, winning the gents recurve. Lizzie Cantopher also shot a new PB and county record with 1246, that?s also her first GMB score! And Derek Bett shot a new barebow record with a ridiculous 1060.
Hopefully my score is enough to make the county team for the Ivy Keating, as that?ll be the next shoot for me. Not sure after that. I will enter the 2nd Caswell in July and the 3rd in August. I might look for another FITA somewhere in June.