No shooting over the weekend, had a bit of cold and didn?t really feel like it. Might have shot on Sunday morning had the weather been better.
Shot Monday morning and yesterday. Monday was quite windy so mainly stayed at 40y shooting from behind the car. Yesterday wasn?t too bad so I shot a few at 90 and 70 to check sight marks after messing around with the poundage and brace height.
Got to the field for 6am this morning, and managed to shoot a whole FITA in just over 2 hours! 9 arrow ends at 90, 70 and 50, then 6 arrows at 30.
No sighters or practice, straight in just incase I ran out of time. Still have the same old problem i?ve always had with the windage, it?s all the way right at 90m, way past the line of the string. By the time i get to 30m it?s moved across left more than an inch.
Generally the first few shots were pretty good, and any tired ones wanted to go left. Had a couple of snaggy releases at 90 but otherwise not too bad.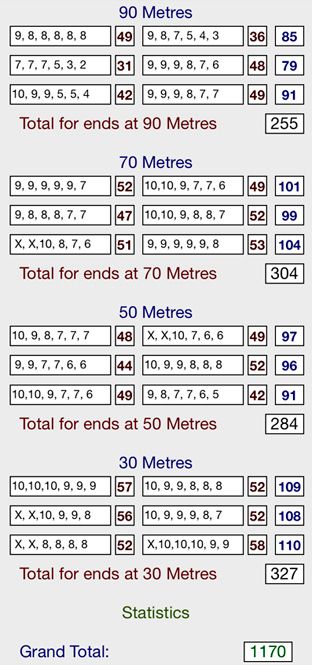 Best end at 90.
Best end at 70.
It?s steady improvement I suppose but, i am finding 90 a bit frustrating. Used to it being my stronger distance I guess.
The weather is looking really nice for the weekend. Hopefully no wind!